WHAT HAS CHANGED FOREVER
Over the last 13 months, everyone likely became very wary of hearing the phrase "The New Normal."  As the world has opened up and the vaccine has started to roll out, the changes we have all experienced haven't gone away.  The reliance on new and old technology being implemented in the security industry continues to grow.  Looking back on what we have all done, and forging ahead into the future, we can now ask, "What has changed forever in the security industry?"
The Need for Security
The need for security and visitor management systems at a facility has increased. A drastic increase in certain crimes and a global pandemic has intensified the need for physical security even if the facility is empty. The role of a security team and their use of technology became more important than ever with them being tasked with running temperature checks, enforcing masks, and still social distancing. Even in neighborhoods, the increased amount of security surveillance was needed more than ever. What has changed forever though is now we have to monitor empty schools with physical or remote cameras, but still communicate with boots on the ground.
Non-contact
Public health became a new concern for the security industry due to the padmenic. We had a new role of making sure everyone was following social distancing guidelines, wearing masks, and even prescreening all people who enter a building. We now have to consider how to pandemic-proof a facility for the foreseeable future. It is our job to assure that all workers feel safe even from microscopic threats. 

 Technology
2020 was the year we were forced to adapt. Security guards are essential workers and while most of the US was in quarantine we were on-site securing and monitoring the world. We turned to technology to find a way to make sure security teams were in contact with as few people as possible and finding ways to automate as many processes as possible with technology. The use of visitor management pre-screen and temperature checking kiosks is rising at an exponential rate.
Facial recognition became more common for managing control in big facilities like warehouses and large business buildings. It can be used to grant access into different areas contactless getting rid of biometric readers and keypads which is a possible breeding ground for viruses. 
Security teams are looking to their current software to provide them, even more, use manage facilities.  Paperless incident reports, guard tour checkpoints, push notifications, and contactless visitor management has helped teams adapt to these trying times. Being able to be happening in real-time with your team, your schedule, and the visitors in your facilities gives your team the ability to adapt and be prepared.  This new invasion is what has changed forever.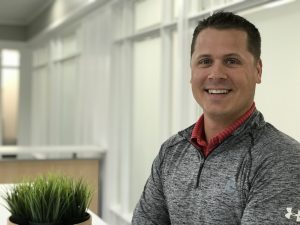 Tony Unfried, CEO of CSA360, holds a master's degree in Public Affairs and Criminal Justice from Indiana University, where he graduated with honors. While enrolled in his master's program, Tony worked for The TJX Companies, Inc., leading the region in loss prevention and moving the company toward technology use in Security. Tony went on to join the most significant security company in Indiana, managing more than 500 employees and 50 sites, including the Indiana Convention Center, Bankers Life Fieldhouse, and Ruoff Home Mortgage Music Center. Seeing a noticeable gap in technology use in the physical security sector, Tony created his first security software application, launched at the Super Bowl in 2012, and recognized twice for Excellence in Mobile Technology by Techpoint. Tony has also spoken on Tech in Physical Security on panels with ASIS and IAVM.
https://www.calsaga.org/wp-content/uploads/2021/06/calsaga-web-logo-1.png
0
0
Aley Moyer
https://www.calsaga.org/wp-content/uploads/2021/06/calsaga-web-logo-1.png
Aley Moyer
2021-04-27 20:30:12
2023-06-29 10:33:13
The Californian 2021 Q2 – WHAT HAS CHANGED FOREVER