ESSENTIAL CONTRACT TERMS FOR YOUR SECURITY SERVICES AGREEMENTS
Barry A. Bradley, Esq., Bradley & Gmelich, CALSAGA Network Partner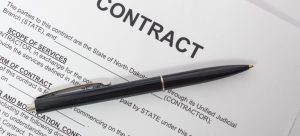 While recently teaching CALSAGA's Security University course on contracts, it became clear that many of your service contracts with your clients are often missing some vital essential terms.  Without going into too much detail in this limited space, examine your contract template and see if they contain each of the following:
General Statement of Duties (Scope) Are your duties clear and defined both as to location, post responsibilities, hours, expectations, and especially limitations? Are your officers to use force? Are they just required to observe and report?
Term of Contract When does your service agreement expire? Will it automatically renew? Is termination addressed?
Price and Payment Terms Are all service hours defined and invoicing defined?
Attorney's Fees If a dispute arises between you and your client (for example, for non-payment), does the prevailing party have a right to recover its reasonable attorney's fees?
Disclaimers Are you making promises you shouldn't?
Indemnification This is perhaps one of the most vital areas of your agreement. Is it in your favor, or are you giving up the farm?
Insurance Requirements Are you providing appropriate insurance coverage? Are you required to name your client as an Additional Insured? Are there exclusions that might apply for which you might not have coverage?
How Disputes are Resolved? In the event of a legal dispute with your client, where and how will it be addressed?
These are just a few of the necessary provisions that should be addressed in any of your service contracts.  There are additional areas that can protect your business, but at a minimum, you should make sure you have these basics.
LESSON LEARNED:  We all know it is better to use your own contract than one that is drafted by your client. Your basic template can and should fully protect your business.  However, when you must use your client's contract, you can always negotiate before you enter into the agreement and try to ensure that some of these essential provisions are there that will protect your business.
Contact us to assist you in reviewing your contract template, or any agreements you might be asked to sign.  (Once you sign it, it's too late to change things.)

Barry A. Bradley is the Managing Partner of Bradley & Gmelich LLP located in Glendale, California, where he heads up the firm's Private Security Team and oversees the Employment and Business Teams at the firm.  A former Deputy District Attorney, Barry's practice concentrates on representing business owners in employment, business and licensing issues, as well as defending litigated cases involving negligent security, employment and business related issues.  The firm acts as general counsel for many security companies in California.  Barry is the Legal Advisor to CALSAGA.
He has been conferred an AV-Preeminent Peer Rating by Martindale Hubbell, the highest rating attainable, and has been named a Southern California Super Lawyer for the past 14 consecutive years in the area of Business Litigation.  Barry is also the recipient of CALSAGA's Security Professional Lifetime Achievement Award. bbradley@bglawyers.com  818-243-5200.
https://www.calsaga.org/wp-content/uploads/2021/06/calsaga-web-logo-1.png
0
0
Kate
https://www.calsaga.org/wp-content/uploads/2021/06/calsaga-web-logo-1.png
Kate
2019-04-29 22:17:48
2023-10-18 10:47:33
The Californian 2019 Q2 – ESSENTIAL CONTRACT TERMS FOR YOUR SECURITY SERVICES AGREEMENTS