Last week CALSAGA hosted its 2019 Annual Conference & Exhibits in Rancho Mirage. The CALSAGA team has heard from multiple attendees that this was the best conference yet and is inclined to agree!
The association appreciates our strong working relationship with the Bureau of Security and Investigative Services. Bureau Chief Lynne Jensen Andres and Deputy Chief Samuel Stodolski presented attendees with a status update of the bureau. In addition, the pair took attendee questions from the stage as well as from individuals following the session.
Male erection is an unpredictable procedure including numerous organs and frameworks. The mind, veins, nerve cells, hormones are on the whole liable for the erection. Erectile brokenness is an indication that a portion of these frameworks neglect to work appropriately and there might be some illness. Mild and moderate forms of ED can be cured by Cialis medication.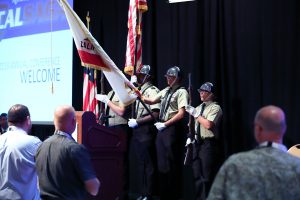 Kicking off the General Sessions, veteran presenters Barry Bradley and Jaimee Wellerstein of CALSAGA Legal Advisor Bradley & Gmelich delivered a Legal Update. This annual  presentation helps attendees prepare for new laws that will affect their businesses and the industry as a whole. On Thursday Gary Bradley and Anne Laguzza alerted attendees to potential Human Resources pitfalls. Staples of the program, these two sessions complement each other to help attendees protect their businesses and ensure that they are compliant with staffing and hiring laws, changing regulations and more. Be aware of a real money lightning link pokies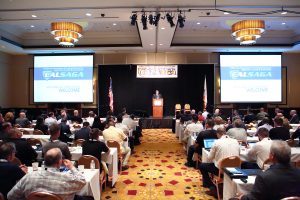 Jesus M. Villahermosa, Jr. of Crisis Reality Training, Inc. presented the training Surviving the Active Lethal Threat Event. Jesus educated attendees on the tactics proven to increase survival in the event of an active shooter event. This powerful training is so important and, unfortunately, extremely relevant for the time.
Our program also included sessions on cannabis, BSIS compliance and an address from CALSAGA's lobbyist Kelly Jensen of Sloan, Higgins, Jensen. In addition, Michael Hogsten General Counsel for G4S Secure Solutions shared the story of their Dignity and Respect campaign.
Thank you to our sponsors:
Tolman and Wiker Insurance Services LLC, Presenting Sponsor & President's Reception Sponsor
Silvertrac Software, Gold Sponsor
TSIB, Gold Sponsor
UniPro International, Gold Sponsor and Awards Dinner Cocktail Hour Sponsor
El Dorado Insurance Agency, Silver Sponsor
CSA360 Software, Bronze Sponsor
TrackTik, Bronze Sponsor & Awards Sponsor
ProtaTECH, Credential Sponsor & Happy Hour Sponsor
Destiny Software, Credential Sponsor
TEAM Software, Wednesday Refreshment Sponsorship
Corporate Security Service, Inc., Awards Dinner Wine on Table Sponsor
PARTICIPATING SPONSORS: A.G. Spanos, Allied Universal Security Services, Bradley & Gmelich, First Security, The Works Consulting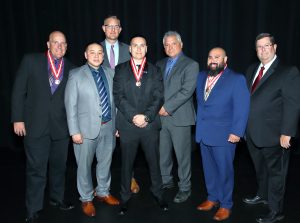 The Annual Awards Dinner was held on the Wednesday evening of the conference. An afternoon Happy Hour was hosted by
ProtaTECH and the Awards Dinner Cocktail Hour was hosted by UniPro. During the event Lifesaving Awards were presented to several brave security professionals.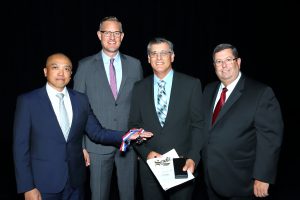 Among the winners are the First Security Services officers who first responded during the active shooter event at the Gilroy Garlic Festival in July 2019. These brave individuals ushered civilians to safety, began performing first aid before medical personnel could arrive and safely evacuated disabled and handicapped individuals. Security professionals also helped by putting injured members of the public into their patrol cars and driving them to the hospital to save valuable time.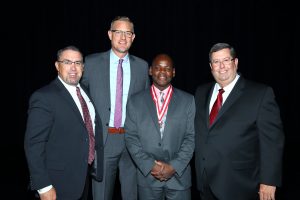 Additional award recipients from Allied Universal Security Security Services and CIS Security include:
Officers who, after shots were fired at a medical center, established a barricade and worked to keep patients and visitors calm
 An officer who administered first aid during a mall shooting as well as assisted local law enforcement in their search for the shooters
 An officer who assisted with patient transport and hospital evacuation during the Paradise Fire in November 2018
Award winners were each presented with a check provided by Awards sponsor TrackTik.
Click here to view the Palm Springs New Channel 3 posted regarding the Lifesaving Award winners from Gilroy.
The Agua Caliente Resort & Spa continues to be a wonderful host with excellent food and service plus surprisingly inexpensive lavish rooms. We look forward to returning again next fall for the 2020 CALSAGA Annual Conference & Exhibits October 20 – 22, 2020.
Thank you to our vendors:
American Bike Patrol, B Line Security Training, Certifix Live Scan, CSA360 Software, Destiny Software, El Dorado Insurance Agency, Defencify Training, Flexible StaffCARE, HUB International, Kwantek,Robotic Assistance Devices, Philadelphia Insurance Companies, ProtaTECH, Round Table Financial, Sargeant Insurance Agency, Silvertrac Software, Symbol Arts, LLC, TEAM Software, Telepath Corporation, Tolman and Wiker Insurance Services LLC, TrackForce, TrackTik, UniPro International
View the photos from the Annual Conference
https://calsaga.org/wp-content/uploads/2019/10/3287-0003.jpg
1800
2700
Kate
https://www.calsaga.org/wp-content/uploads/2021/06/calsaga-web-logo-1.png
Kate
2019-10-24 15:58:33
2020-07-29 04:34:27
2019 Annual Conference Recap