Nationwide Communication is Trending with Law Enforcement, Security & Specialized Units
We live in a data-driven world where agencies and private security increasingly expect data to flood through theirnetworks at optimum speeds to do their jobs better, smarter, and faster. Today, 75% of the workplace is said to be themillennial generation (1), and many believe that millennial workers are addicted to the "instant gratification"phenomenon. This is a generation that grew up with texting, instant messaging, social media, and more, all at theirservice to deliver information in an instant. As the speed of our data-driven world continues to increase, so are theexpectations of workers whose jobs rely on instant data-driven communications.
While the idea of instant push-to-talk communications has been around since 1933 when a New Jersey police department operated the first Land Mobile Radio (LMR) system, this new data-hungry workforce continues to push thereliability and speed of their communication system. But the need for speed simply isn't enough in an increasingly mobile world …
According to a recent Gallup study, 43% of employees reported working offsite at least at some point during theircareers compared to 30% just 4 years earlier (2). With this increasingly mobile workforce that can now work anywherebeyond the office, an instant communication solution to support these requirements is simply non- negotiable. In aMotorola Solutions Communications Survey, 64% of workers stated it is important to have instant, nationwidecommunication at their workplace (3).
Today you can get the best of both worlds with instant two-way radio communication features at a nationwide scale.By connecting existing Land Mobile Radio (LMR) systems and smartphones, the LTE Broadband radio, extendspush-to-talk benefits for all team members, whether they're on the same job site or across the country.
PRIVATE SECURITY:
INSTANT COMMUNICATION WHEN IT'S NEEDED MOST
Security personnel can use one device anywhere.
Communicate critical encrypted communication instantly with team members across the country at the push of a button.
Bridge multiple facilities and operations without needing to set up or maintain complicated infrastructure.
Connect with teams regardless of their network, on existing LMR devices to smartphones, and more.
Fast-track security operations with a nationwide push-to-talk network that powers the quickest setup, programchanges, and connectivity.
Even the freshest new hire can pick up the device and immediately share information with the rest of the team.
Perhaps no industry requires instant communication more than security, where safety often depends on split second decisions.
Key Statistics About Millennials in the Workplace, Mark Emmons
America's Coming Workplace: Home Alone, Annamarie Mann, and Amy Adkins
2019 Motorola Solutions Communications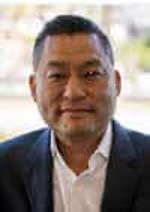 JoJo Tran is Chief Executive Officer of Telepath Corporation. Tran joined Telepath in 1990 and became CEO in September 2010. Previously, he headed several business units at Telepath, including mission critical infrastructure, customer service, sales and mobile team. Mr. Tran's vision is to be the industry's premier sales, service and program management company. Customers and partners will see Telepath as an integral to their success. Telepath will anticipate their needs and deliver on every commitment. People will be proud to work at Telepath. Telepath will create opportunities to achieve the extraordinary and will reward their success.
https://calsaga.org/wp-content/uploads/2022/11/Pages-from-Q4.png
3168
2448
Kate
https://www.calsaga.org/wp-content/uploads/2021/06/calsaga-web-logo-1.png
Kate
2023-04-28 11:34:12
2023-04-28 11:41:38
The Californian 2023 Q2: Nationwide Communication is Trending with Law Enforcement, Security & Specialized Units