Shaping the Optimal SaaS Ecosystem
How CSA360 Software follows through on their Core Values
Dream Big. At CSA360 Software, our vision is to create the best software possible. When  we design our interface, we are thinking globally by asking if all users would benefit. We're  committed to creating a roadmap that is always improving. 
Maintaining your Mission, Vision and Values may seem like a daunting task, however, setting a  clear vision for your security company can help you attract and retain talent, keep your  leadership focused, and help you scale strategically. 
Leadership expert Simon Sinek often talks about knowing 'the why' of our business. He defines it  as "The compelling higher purpose that inspires us and acts as the source of all we do". At  CSA360 Software, our 'why' stems from the belief in our product as well as our steadfast  commitment to our clients to help them reach their business goals without breaking the bank. 
Growth acceleration is a byproduct of clear core values. In the last twelve months, our company  has strategically expanded. First, there was a defined initiative to create a better user experience.  New developers and talented UX designers were added to the team, executing useful updates to  our current modules. 
Consistently improving our modules delights our current and future clients. Our workforce  management module, HR Commander, has new views, filters and scheduling features, and can  easily integrate with different payroll software. Our Text Commander module has experienced a  complete overhaul, making it easy to send notifications to staff, guests or segments of groups  that could benefit from real-time information. 
Our Dispatch Module can show all stages from 'reported' to 'in progress' to 'all clear' in real time.  Use a special form in the field? Get up to five custom forms specifically designed for your  business.  
Gather and measure analytics with Custom Summary Reporting, written to your exact  requirements. In addition, with modules such as Tour Confirmation, Communications Log, and  Push Notifications, your security staff is fully accountable.
Our Binder Module is a digital manual to store EOPs, EAPs and SOPs at the touch of a button.  This feature is great for events with large staff and volunteers. 
Other modules such as Lost & Found match the item to the owner with minimal time and effort. 
CSA360 Software offers nineteen complete modules. Clients can learn from our experienced  sales staff to receive a perfectly curated order of only what they need. Clients can request any  combination of one to all nineteen pieces. The software is available on a monthly, annual, three year subscription. 
CSA360 Software has four core values. First is the Business Mullet: we've got productivity with  personality! We bring authenticity to our workplace. Second is the White Glove Partnership:  client success is our focus. Through Quarterly Business Reviews, NPS scoring, trainer surveys  and monthly check ins, we strive to give the best service possible to our clients. Third is Street  Cred: this software was built by security professionals for security professionals. Our CEO, Tony  Unfried, started this business with over 20 year of security experience in the field. Finally, we  care about Proactive Innovation: using our resources to remain leaders in the industry.  
Our team's mission is to create the best security software in the industry. We understand the  need to work proactively instead of reactively. With a leadership team looking laser-focused in  the same direction, at the same goals, it has served us well. 
How do your Core Values align the Big Picture with your Day-to-Day? 
Learn more about us at www.csa360software.com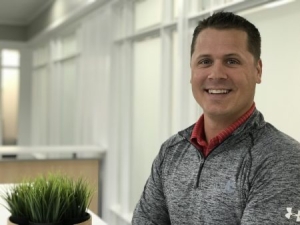 Tony Unfried, CEO of CSA360, holds a master's degree in Public Affairs and Criminal Justice from Indiana University, where he graduated with honors. While enrolled in his master's program, Tony worked for The TJX Companies, Inc., leading the region in loss prevention and moving the company toward technology use in Security. Tony went on to join the most significant security company in Indiana, managing more than 500 employees and 50 sites, including the Indiana Convention Center, Bankers Life Fieldhouse, and Ruoff Home Mortgage Music Center. Seeing a noticeable gap in technology use in the physical security sector, Tony created his first security software application, launched at the Super Bowl in 2012, and recognized twice for Excellence in Mobile Technology by Techpoint. Tony has also spoken on Tech in Physical Security on panels with ASIS and IAVM.
https://calsaga.org/wp-content/uploads/2022/11/Pages-from-Q4.png
3168
2448
Aley Moyer
https://www.calsaga.org/wp-content/uploads/2021/06/calsaga-web-logo-1.png
Aley Moyer
2022-10-27 09:59:02
2023-04-28 06:58:29
The Californian 2022 Q4 – Shaping the Optimal SaaS Ecosystem How CSA360 Software follows through on their Core Values