SECURE BEHIND THE WHEEL: DECIDING TO PREVENT DISTRACTED DRIVING
Tory Brownyard, President, Brownyard Group
From public health officials to your insurance agent to the local police department, everyone wants to talk about distracted driving these days. We all know the basic facts: Distracted driving is common—and some experts (such as the National Safety Council) believe distracted driving is underreported as a cause of accidents.
Getting distracted from the task of driving leads to crashes, injuries and worse. According to the National Highway Safety Administration, 3,450 people died nationwide in 2016 as a result of distracted driving. Plus, distracted driving is often against the law—in California, thanks to AB 1785, it is illegal to drive with a cell phone in your hand.
Preventing unsafe driving of all kinds comes down to decisions: whom security firms decide to hire, the decisions that security officers make on the road and how the company decides to respond to accidents. If you are responsible for hiring or managing security officers with driving responsibilities, you can put in place systems to support better driving decisions.
Understand what falls under the umbrella of distracted driving
The term "distracted driving" is often using to mean driving while using a cell phone. Yet "distracted driving" refers to any type of driving during which the driver is not attending to the road. Eating and smoking are distractions, as are GPS devices and radios. Texting while driving is particularly dangerous, because it takes our hands, eyes and minds off the wheel.
Develop enforceable and clear driving policies
Most companies have some version of a cell phone ban for employees who drive. But a distracted or safe driving policy needs to outline clear, distinct and enforceable policies for employees.
Questions a policy can answer include:
What should employees do instead of using their cell phones when driving?
What are the consequences for dangerous driving behaviors?
Are there systems for monitoring employees' driving behavior, such as dashcams and telematics?
What happens after an employee gets in an accident?
These policies can be supported by regular road tests and ride-alongs that help detect signs of trouble among drivers while giving managers an opportunity to review policies in context. In order to ensure a policy is enforceable, it should be developed in conjunction with human resources and legal counsel.
Make informed hiring decisions
Some businesses "hire the problem"—that is, they hire unsafe drivers for positions that require driving. Checking motor vehicle records (MVRs) is as important as a criminal background check for officers who drive; those responsible for hiring should review a candidate's MVRs for every state in which he or she has had a driver's license. MVR red flags include frequent violations like speeding or citations for driving under the influence (DUI). Past violations may indicate future behavior.
It also may help to consider the candidate's skill and experience driving, such as training in defensive driving. Alternately, consider whether or not he or she has a health condition that does not permit operating a vehicle for long periods of time.
Finally, it may help to ask yourself whom you would hire if you did not have insurance. That is, who has the sort of driver profile that would make you feel safe enough to put them behind the wheel with little safety net? The public expects businesses to carefully screen employees like security officers. Hiring an unsafe driver could not only result in an accident and insurance claim, but damage your reputation.
Use technology to your advantage
Modern technology is not always the villain on modern roadways. It can be used to reduce distractions on the road, too. Telematics devices are more and more common and can be used, in conjunction with GPS technology, to monitor behaviors like braking, speeding and seatbelt use as well as the location of a company vehicle. Plus, products like Cell Control allow employers to block the use of cell phones in company vehicles.
Of all the challenges and risks a security officer can face on a daily basis, driving may seem minor. After all, many of us drive several hours a week just to run routine errands. But just because driving—and, sadly, distracted driving—is commonplace does not mean it is safe. Making the decision to commit to safe driving protects officers and the communities that trust them.
Distracted driving has been such a frequent topic of conversation that we developed a risk management brief on the issue. If you would like more information on the consequences of unsafe driving and how employers can prevent it, visit this link to download "Driving on the Edge: Why We Must Act Now to End Dangerous and Distracted Driving": http://brownyard.com/distracted-driving/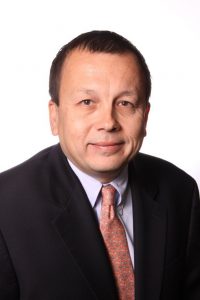 Tory Brownyard, CPCU, is president of Brownyard Group (www.brownyard.com), an insurance program administrator with specialty programs for select industry groups. In addition to his responsibilities as President, he currently spearheads the Brownguard security guard insurance program. For more information, contact him at TBrownyard@brownyard.com.
[Sources:
https://www.nhtsa.gov/risky-driving/distracted-driving
https://www.nsc.org/road-safety/safety-topics/distracted-driving
https://www.ots.ca.gov/Media_and_Research/Campaigns/Distracted_Driving/default.asp ]
https://www.calsaga.org/wp-content/uploads/2021/06/calsaga-web-logo-1.png
0
0
Kate
https://www.calsaga.org/wp-content/uploads/2021/06/calsaga-web-logo-1.png
Kate
2018-07-24 13:45:19
2023-10-18 10:56:04
THE CALIFORNIAN 2018 Q3 – SECURE BEHIND THE WHEEL: DECIDING TO PREVENT DISTRACTED DRIVING