CALSAGA is pleased to announce that the nominations period is now open for members who are interested in serving on the 2019-2020 CALSAGA Board of Directors. Elected Board Members will serve a 2-calendar year term on the Board of Directors, commencing January 1, 2019. The deadline for nomination submissions is the close of business, Friday, September 28, 2018.
The 11 Directors on the Board are responsible for the governing, operations, planning, and general business matters of CALSAGA. We are a non-profit corporation and are governed by our bylaws, articles of incorporation, and state law. The Board meets every other month and Directors must make a commitment to attend these meetings. It is largely due to the commitment of our Board members, and all other volunteers, that CALSAGA has been successful over the past 22 years in representing the security industry's interests in California.
The nomination process and the election/appointment process are as follows:
Election and Appointment Phases:
The election and appointments are done in 3 Phases:
Phase I – Executive Committee: Will be voted upon by the membership, either electronically by email, or in the morning session on the first day of the Annual Conference on October 17, 2018 (see timetable below). Results will be announced on October 17, 2018.• Phase II – Northern/Southern California Directors: Will be voted upon by those members in attendance in the afternoon session on the first day of the Annual Conference on October 17, 2018 (see timetable below). Results will be announced on October 17, 2018

• Phase III – Directors-At-Large: Will be appointed by the new Board of Directors after they take office in January 2019.
Available Positions
[Note: Candidates can submit nominations for both the Executive Committee and for the Northern/Southern California Director Positions. If a candidate is first elected to the Executive Committee, their name will be withdrawn prior to the Phase II vote for those Northern/Southern California Positions.]
Executive Committee Directors [Without regard to geographical location in California]:
President
Vice President
Vice President
Treasurer
Secretary
Directors
Northern California Director
Northern California Director
Southern California Director
Southern California Director
Non-Elected Appointed Positions
[Note: There is no election. These positions will be appointed by the new Board of Directors after January 1, 2019 at the first Board of Directors Meeting in January 2019. Submissions of Interest will be accepted prior to the January 2019 Board of Directors Meeting.]
Director-At-Large
Director-At-Large
Eligibility
Nominees must be a primary or secondary contact of a Private Patrol Operator, Proprietary Security Employer or Private Security Training Facility member-company of CALSAGA whose membership and dues was current as of September 1, 2018.
Executive Committee Nominees must also have served in some other prior leadership capacity, either in another Board position (Regional Director or Director-at-Large) or chaired a CALSAGA Committee. The Board may waive these requirements if petitioned.
Please contact the CALSAGA office for a copy of the by-laws setting forth the specific requirements if you have additional questions.
Nomination Process
Self-Nominations are accepted, as are nominations for another CALSAGA member. To issue a formal nomination, please email the following information to the CALSAGA team:
Your Name
Name of Nominee and Company
Nominated Position
Nominations can be sent to our Association Manager, Kris Smidt at kris@calsaga.org and must be received no later than the close of business on Friday, September 28, 2018.
Once verified for eligibility, nominees will be contacted by the CALSAGA Nominations Committee, and each nominee will have the opportunity to submit a 200-word statement for distribution to membership on Monday, October 8, 2018 (Candidate Statement Submissions must be received at kris@calsaga.org by 5:00pm Friday, October 5, 2018).
Voting
Each company that is eligible will have one vote. Company members are responsible for determining who will cast their vote.
Paper ballots will be distributed to all voting members in attendance at the 2018 CALSAGA Annual Conference and Exhibits on Wednesday, October 17, 2018. Alternatively, electronic ballots will be issued on Monday October 8, 2018 along with the statements prepared by those seeking election. Members not attending the CALSAGA Annual Conference may vote by email. Electronic votes must be received no later than close of business on Monday, October 15, 2018.
Ballots will be collected and tallied (along with all electronic ballots that were received by the October 15th deadline), at the Annual Conference. (See timeline below.)
Announcements will be made for the 2019-2020 Board of Directors on Wednesday, October 17, 2018 during the Annual Conference and Exhibits.
ELECTIONS TIMELINE
The schedule of the voting process is as follows: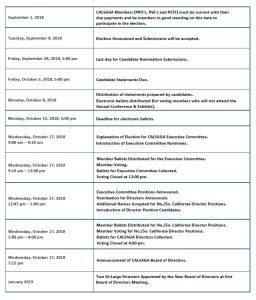 If you have any questions or concerns, please contact:
Nominations Committee Chair and CALSAGA Legal Advisor
Barry Bradley
bbradley@bglawyers.com
818-243-5200
CALSAGA Association Manager
Kris Smidt
kris@calsaga.org
714-824-7015
https://www.calsaga.org/wp-content/uploads/2021/06/calsaga-web-logo-1.png
0
0
Kate
https://www.calsaga.org/wp-content/uploads/2021/06/calsaga-web-logo-1.png
Kate
2018-09-04 11:18:23
2018-09-04 11:18:53
Notice of CALSAGA Board of Directors Nominations