Early Bird Discount Ending Soon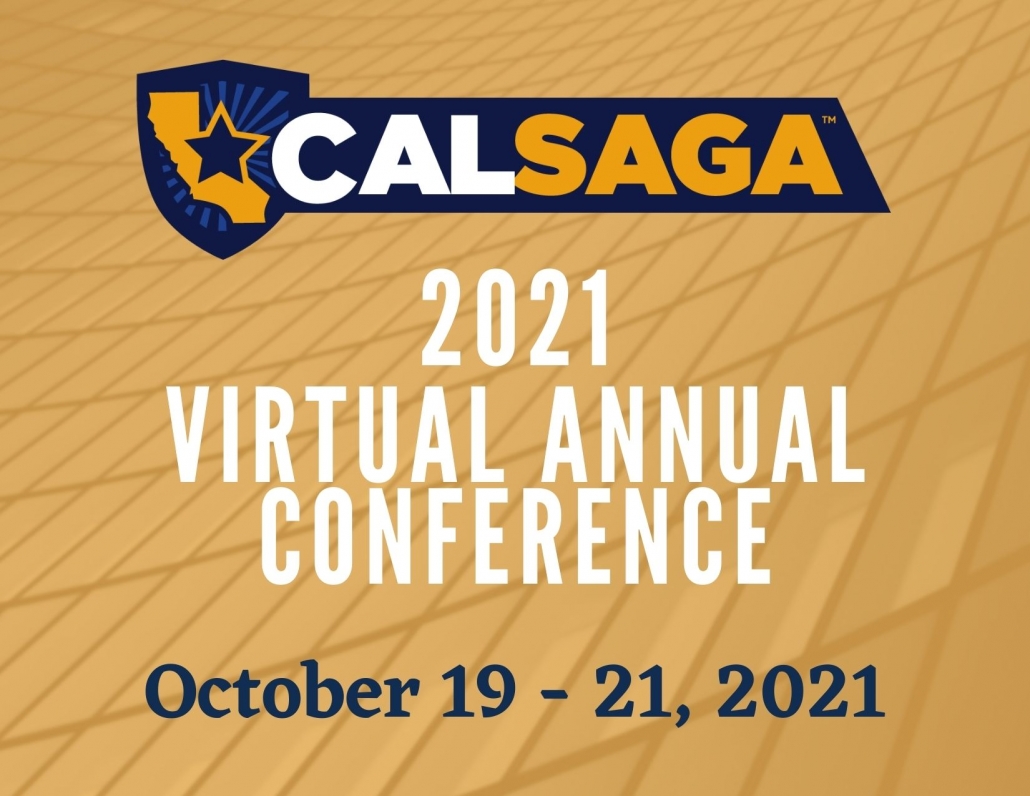 The Early Bird Discount has been extended to Friday, September 10th.
Register now.
For only $39 you'll gain access to the Virtual Vendor Hall, all conference sessions and Live Q&A sessions, Virtual Happy Hour hosted by the CALSAGA Ambassador Committee and more!
Not available during the days of the conference? No problem! Conference sessions will be available for two weeks following the event.
_ _ _ _ _ _ _ _ _ _ _ _ _ _ _ _ _ _ _ _ _ _ _ _ _ _ _
As an association we strive to keep you up-to-date on relevant information for your business. In case you missed it in the latest edition of The Californian: The Quarterly Newsletter of CALSAGA please review the following important information below from CALSAGA Network Partner Bradley & Gmelich.
On July 15, 2021, the California Supreme Court held that if an employer fails to provide a legally compliant meal period or rest break to an employee, the wage premium owed to the employee must be paid at the employee's "regular rate of compensation," which includes not just hourly wages but all nondiscretionary payments for work performed by the employee. The Court also held that its decision will be retroactive.
The Case
Jessica Ferra worked as an hourly bartender for Loews Hollywood Hotel. She received hourly wages plus quarterly nondiscretionary incentive payments. If an hourly employee was not provided a compliant meal or rest break, Loews paid the employee an hour of pay at the employee's base hourly rate. Loews argued this was the "regular rate of compensation" mandated by Labor Code section 226.7(c).
In 2015, Ferra filed a class action lawsuit, arguing that nondiscretionary incentive payments should be factored into the regular rate of compensation for purposes of meal and rest break premiums. The trial court and Court of Appeal agreed with Loews that the "regular rate of compensation" was not synonymous with the "regular rate of pay" used in Labor Code section 510(a) governing overtime. Ferra appealed to the Supreme Court, and the instant ruling followed.
The Supreme Court discussed the history and evolution of the wage orders as well as Labor Code section 226.7 extensively as the basis for its holding. The Court noted that neither the Labor Code nor Wage Order No. 5-2001 define the terms and the words could reasonably be construed to mean hourly wages or wages plus nondiscretionary payments as is the case under Labor Code section 510(a) for calculation over the regular rate of pay for purposes of overtime.
The Supreme Court also relied on the courts' and DLSE's understanding of two different terms, that "regular rate" under the Federal Labor Standards Act ("FLSA") and "regular rate of pay" in Labor Code section 510 have the same meaning. "Regular rate" under the FLSA for purposes of overtime includes "all remuneration for employment paid to, or on behalf of the employee" including nondiscretionary payments. Thus using the word "compensation" in Labor Code section 226.7 as opposed to "pay" in Labor Code section 510 does not necessarily mean the terms have different meanings.
The Supreme Court also rejected several federal district court opinions holding that the regular rate of compensation only means an employee's hourly rate. The Supreme Court observed that such an interpretation would put an employee who received only a piece rate or both a piece rate and an hourly rate of pay as compensation at a disadvantage as the nondiscretionary payments would not be counted towards calculating their premium pay.
Based on its analysis and legislative history, the Supreme Court held the phrase "regular rate of compensation" in section 226.7(c) has the same meaning as "regular rate of pay" in section 510(a) and encompasses not only hourly wages but all nondiscretionary payments for work performed by the employee."
As the final blow to employers, the Supreme Court rejected Loew's request to apply the decision prospectively. Thus, the decision will be applied retrospectively.
Employer Takeaway:
Employers should closely examine their policies and practices with regard to meal and rest periods. Employers must demonstrate constant vigilance in complying with California's rigid wage and hour laws, including proper calculation and payment of the one-hour premium when violations do occur.
As the decision is retroactive, employers who have paid premium pay should analyze their calculations to ensure that it includes nondiscretionary pay.
If you have any questions about how this decision may impact your obligations, or need assistance with regards to calculating premium pay, please feel free to contact Bradley & Gmelich LLP. We are here to help.
About the authors:
Saba Zafar, Esq. is Special Counsel in Bradley & Gmelich LLP's Employment Law Department. Saba has over a decade of experience as an attorney, primarily in employment law. Saba focuses her practice of providing strategic advice and counsel in all aspects of employment law and workplace matters, including drafting and implementation of HR policies and procedures, Employment Handbooks, providing advice to clients on personnel issues as well as general business matters.
Prior to joining the firm, Saba was a Senior Counsel providing advice and counsel to mid-sized to large businesses on employment law compliance and day-to-day employment issues, including implementing policies and procedures, employee classifications, employment separations, managing and disciplining employees, and COVID-19 rules and regulations. Saba also handled a wide variety of employment matters in state and federal court, including cases involving wrongful termination, discrimination, and wage related cases.
In her spare time, Saba has volunteered as a Mediator for the Department of Consumer Affairs and the Orange County Human Resources Department. She was also a Volunteer Tutor for Schools on Wheels, tutoring elementary school students on skid row in Los Angeles. Prior to practicing law, Saba was a Judicial Extern for California Court of Appeal, Second Appellate District.
In her free time, Saba enjoys embarking on culinary adventures and catching up on new television shows. szafar@bglawyers.com
Jaimee K. Wellerstein, Esq. is a Partner at Bradley & Gmelich LLP, and the Head of the firm's Employment Department. Jaimee concentrates her practice in representing employers in all aspects of employment law, including defense of wage and hour class actions, PAGA claims, discrimination, retaliation, harassment, wrongful discharge, misclassification, and other employment related lawsuits. She also provides employment counseling and training in all of these areas. 
Jaimee routinely represents employers in federal and state courts and in arbitration proceedings throughout the state, as well as at administrative proceedings before the Equal Employment Opportunity Commission, the California Department of Labor Standards Enforcement, the United States Department of Labor, and other federal and state agencies.
Jaimee assists as a Legal Advisor to CALSAGA, and is a member of ASIS International. She is rated AV-Preeminent by Martindale-Hubbell, the highest peer rating available. jwellerstein@bglawyers.com.
_ _ _ _ _ _ _ _ _ _ _ _ _ _ _ _ _ _ _ _ _ _ _ _ _ _ _
CALSAGA will continue to update you on matters that affect you and your business. We appreciate the hard work of you and your employees. Please let us know what we can do to assist you.
Stay in the know! Read the latest edition of The Californian: The Quarterly Newsletter of CALSAGA. You can also review all past editions of The Californian.
https://calsaga.org/wp-content/uploads/2021/08/2021-Annual-Conference-Postcard.jpg
1275
1650
Kate
https://www.calsaga.org/wp-content/uploads/2021/06/calsaga-web-logo-1.png
Kate
2021-09-08 11:43:52
2021-09-08 11:58:50
Discount Expiring + ICYMI: Recalculation of Premium Pay