The 2018 CALSAGA Annual Conference was a success! The Agua Caliente Casino Resort and Spa team were great hosts and the food was delicious. Thank you to everyone who attended, our speakers and to our vendors and sponsors who made the conference possible.
CALSAGA Preferred Broker Tolman & Wiker sponsored our opening night President's Reception on the West Lawn. As always, this event provided an opportunity for attendees, sponsors and vendors to network.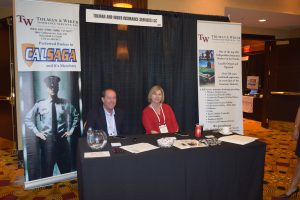 The general session kicked off with a legal update from CALSAGA Legal Advisor Barry Bradley. Anne Laguzza and Gary Bradley presented the session that attendees always enjoy: California's Human Resource Challenges. For the first time, the event included a session tackling cannabis in California.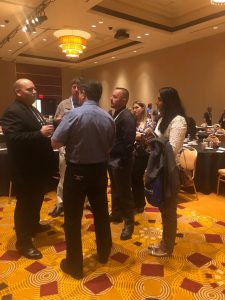 Conference attendees had the opportunity to hear from new BSIS Chief Darrel Wooand BSIS Deputy Chief Samuel Stodolski. CALSAGA looks forward to a great working relationship with the new chief.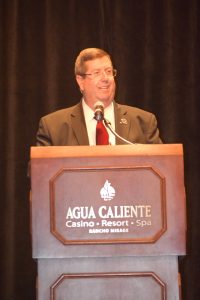 As it is an election year, the program included the election of the 2019-2020 Board of Directors.
President: David Chandler
Northern California Vice President: Mark Tsuji
Southern California Vice President: Aleda Sebenick
Treasurer: Mark Miller
Secretary: Mike Smidt
Northern California Directors: Ashlee Cervantes and Chris de Guzman
Southern California Directors: Gary Bradley and Hugo Rodriguez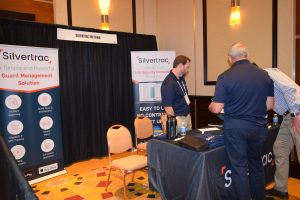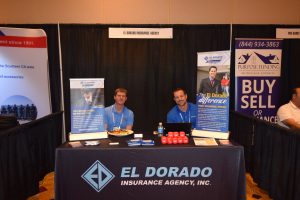 Our Vendor Hall sold out again this year. We appreciate the support of all of our vendors and sponsors!
Sponsoring Vendors:Tolman & Wiker, Silvertrac, TSIB, El Dorado Insurance Agency, Inc., TrackTik, Destiny Software, On Guard Apparel, Kwantek, UniPro International
Participating Sponsors: A.G. Spanos Companies, Agua Caliente Casino Resort and Spa, Allied Universal, Bradley & Gmelich, Custom Protective Services, E. & J. Gallo, First Security, G4S Secure Solutions, The Works Consulting
Vendors:American Bike Patrol, Aptonomy, BLine Security Training, Brookhurst Insurance Services, Certifix Livescan, Class VIII Research, DiBuduo & DeFendis Insurance Brokers, HUB International, Philadelphia Insurance Companies, Pre-Banc Business Credit, Robotic Assistance Devices, Symbol Arts, Team Software, Trackforce, Trikke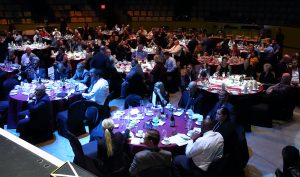 The Annual Awards dinner typically takes place on the last night of the conference; this year it was held on Wednesday allowing more to attend. Emceed by CBS Local Meteoroligist Patrick Evans, Officer of the Year, Medal of Valor, Lifesaving and Howenstein Lifetime Achievement Awards were presented. Thank you to Kwantek for presenting financial gifts to award winners. We were fortunate to have Al Howenstein in attendance to present the Howenstein Lifetime Achievement Award this year.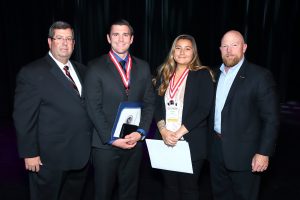 Lifesaving Award Recipients: George Oliver Carter, Sterling Simeon, Arleen Vargas, Michael Moise, Nichole Richter and Frankie Arroyo-Acevedo
Officer of the Year Recipient: Deantoine Dwanyne Washington
Medal of Valor Recipient: Jason Medford
Howenstein Lifetime Achievement Award: L. Earle Graham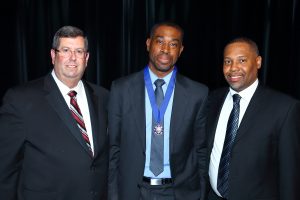 At the event $1250 was raised for the CALSAGA Charitable Foundation. The purpose of the foundation is to assist severely injured officers as well as the families of officers killed in the line of duty throughout California. In addition, the Charitable Foundation honors and recognizes those who exemplify the best of our industry. Thank you to everyone who contributed!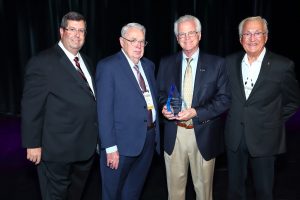 Look out for the announcement about the 2019 Annual Conference coming soon!
https://www.calsaga.org/wp-content/uploads/2021/06/calsaga-web-logo-1.png
0
0
Kate
https://www.calsaga.org/wp-content/uploads/2021/06/calsaga-web-logo-1.png
Kate
2018-10-30 22:37:35
2018-10-30 22:37:35
2018 Annual Conference Recap