PHYGITAL EXPERIENCES IN THE SECURITY INDUSTRY
The security industry has been changing at a rapid pace. New technologies are appearing daily and 2020 was the year to adapt to change or become extinct. One newly accepted but not a real new experience we are having in the Security industry is Phygital. What is phygital? Pronounced  like fidge- ital, Phygital is the blending of the best parts of digital and physical experiences to create the best customer experience.  This has been around for years, but 2020 has made it much more obvious and brought us even new necessities.
With what 2020 brought to us, we have a new way of operating. Many people have installed kiosks to handle visitors and check them into buildings while other people have used thermal imaging to effectively monitor guest and employee temperature from a safe distance. RFID cards and mobile apps for entry and pre-screening are becoming commonplace. These phygital experiences help guests and employees feel safer as they are practicing social distancing and that presence of extra technology can provide an added feeling of security.
Using programs like text and push notification that allow your clients and guests to communicate with your team while an incident is occurring provides your clients and guests with the means to have a say in the environments in which they live, work, and play. It is a phygital experience  combined with the right technology that can help create a better experience for everyone and allow your team to effectively deal and be prepared for any threat or situation.
Phygital doesn't just affect your guests, it can also affect your team. How can you use Phygital experiences to your advantage? Almost everyone has a smartphone these days. While some workplaces see them as a curse, you can use them to your advantage. Security software has become a very useful tool for making your team more accountable and prepared for anything. Using push notifications you can send live notifications to alert your team of a threat or issue at specific facilities or to even notify them of an open shift. This can help streamline communication in your facilities and save you time and money with the new efficiencies.
Another phygital experience that can help is e-learning for training. It is important to keep Security Officers prepared for any occasion. Requiring quick training on a regular basis will assure your security team is in the know. Using e-learning softwares, you can allow your staff to train from any device and learn and refine their physical protocols.
The world is changing faster than ever and it's time to start thinking of ways YOU can implement these phygital experiences. With phygital services, you can create more efficient experiences for everyone. By looking into new technologies such as security softwares it can help create the ideal experience for everyone.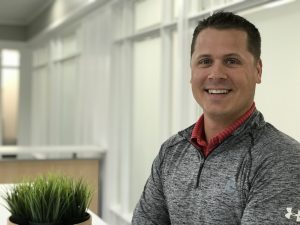 Tony Unfried, CEO of CSA360, holds a master's degree in Public Affairs and Criminal Justice from Indiana University, where he graduated with honors. While enrolled in his master's program, Tony worked for The TJX Companies, Inc., leading the region in loss prevention and moving the company toward technology use in Security. Tony went on to join the most significant security company in Indiana, managing more than 500 employees and 50 sites, including the Indiana Convention Center, Bankers Life Fieldhouse, and Ruoff Home Mortgage Music Center. Seeing a noticeable gap in technology use in the physical security sector, Tony created his first security software application, launched at the Super Bowl in 2012, and recognized twice for Excellence in Mobile Technology by Techpoint. Tony has also spoken on Tech in Physical Security on panels with ASIS and IAVM.
https://www.calsaga.org/wp-content/uploads/2021/06/calsaga-web-logo-1.png
0
0
Aley Moyer
https://www.calsaga.org/wp-content/uploads/2021/06/calsaga-web-logo-1.png
Aley Moyer
2021-01-29 11:42:48
2021-01-29 11:42:48
The Californian 2021 Q1 – PHYGITAL EXPERIENCES IN THE SECURITY INDUSTRY