CHANGE IS HERE
Steve Reinharz, President, Robotic Assistance Devices, Inc.
'Change' is one of the most overused words and concepts in most every industry. It gets people's attention; it clicks and is therefore a powerful word for promoters to use. People generally are fearful of change because it challenges the stability that so many seek.
Change is opportunity and risk. Opportunity of being part of the 'next big thing' and risk that if you miss out it could be catastrophic. And although it's an overused word I'm going to use it here: Our guarding industry is finally being changed by emerging technologies.
Historically we haven't had much 'real' change in guarding because of the nature of guarding itself. Since the 'sell' of guarding is a human at a location(s) there has been little ability to innovate. Instead, much of the industry has been trading a similar commodity service and there's been few opportunities to do anything other than compete on price in a race to the bottom. Naturally there are many exceptions; I'm simply talking about the part of the market with these characteristics.
But finally, for better or for worse, real change is here and we are going to have separation between adopters and resistors. And as always the adopters will prevail. Adopters can be characterized as more forward-thinking, risk-taking and engaged than resistors.
A parallel example is what happened in security integration industry in the late 90s. DVRs and IP based solutions started to emerge. Adopters thrived and resistors struggled. Same thing for many industries that had significant technologies introduced.
For guarding the revolutionizing technology is called 'robots'. I write it like that because until the technology is perfected and given a real name we'll call them 'robots'. Someone once told me that 'a robot is a robot until it's called a washing machine' which illustrates the point that immature technology gets a unique name and industry once it proves itself. But it will get better and it will get better faster.
Today's rolling robotic solutions are far from perfect and in many cases have questionable usefulness but let this be notice that the technology is rapidly improving and the change is here today. Stationary artificial intelligence solutions are here today and proving themselves incredibly useful. In five years I expect this industry's service offerings to be considerably more complex, lower cost, higher profit and better performing.
Change will bring opportunity and risk. Early adopters are noticing, learning more and experimenting with these new technologies. They'll be the winners from this period of significant change that has started.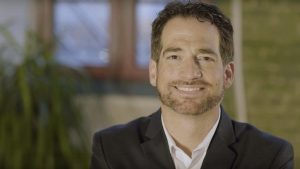 Steve Reinharz is the founder and President of Robotic Assistance Devices (RAD). A proven, seasoned leader in the physical security industry with 20+ years of experience holding various roles in multiple disciplines, Mr. Reinharz has led RAD to create and launch a successful line of artificial intelligence powered solutions specific for the guarding and concierge industries.
Mr. Reinharz's experience is multi-faceted in that he's been an end user, created and managed his own security integration firm and held various other industry roles. Mr. Reinharz speaks and works panels at ISC East and West and ASIS.
'Force-multiplication' has been the hallmark of Mr. Reinharz' career. Specifically using technology to improve client security. Mr. Reinharz credits almost two years of work performed with the LAPD as the basis for many of the technological innovations he has launched.
Mr. Reinharz has called Orange County, California home since 1995 but grew up in Montreal and Toronto. He earned a dual-BS  in Political Science and Commercial Studies and currently resides in San Juan Capistrano, CA with his wife and children.
https://www.calsaga.org/wp-content/uploads/2021/06/calsaga-web-logo-1.png
0
0
Kate
https://www.calsaga.org/wp-content/uploads/2021/06/calsaga-web-logo-1.png
Kate
2018-07-30 00:34:34
2022-05-23 12:45:23
THE CALIFORNIAN 2018 Q3 – CHANGE IS HERE