Annual Conference Travel Info and FAQ
The 2023 CALSAGA Annual Conference will take place at the beautiful Agua Caliente Casino Resort and Spa Rancho Mirage located in the heart of Southern California's greater Palm Springs area.
With discounted hotel rates, why not come before the conference or stay after and get in some relaxation time? Agua Caliente offers two pools and a jetted spa. Ten comfortable cabanas with amenities including Internet, flat screen televisions, misters, ceiling fans and a mini refrigerator are available for rental. Agua Caliente's Sunstone Spa was the recipient of the prestigious Forbes Travel Guide Five-Star award. This luxurious 10,500 square-foot spa features a fitness center and well-appointed treatment rooms.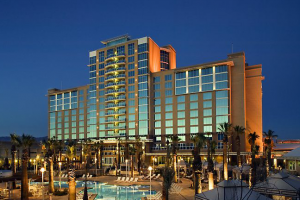 Which airport is closest to where the conference is being held?
Getting to Rancho Mirage for the Annual Conference is no problem! The two closest airports are in Palm Springs and Ontario.
There are several airlines that fly into Palm Springs including a direct flight from San Francisco. From Palm Springs, you can either rent a car or take an Uber – it's a short drive to the Agua Caliente Resort.
Southwest Airlines flies into Ontario. From Ontario you can rent a car and drive about an hour to Palm Desert.
Is there a discounted rate for the hotel?
Can a guest join me for the evening events?
Yes, we offer ticket options for guests!
$49 – President's Reception Only – Tuesday, October 17th
$49 – Under the Stars Poolside Reception – Wednesday, October 18th
What is the dress code?
Professional attire and conference badge are required in all indoor conference spaces. Attendees are encouraged to wear business casual throughout the event.
Both the President's Reception on Tuesday evening and the Under the Stars Poolside Reception on Wednesday evening are outdoors; casual attire or business casual is encouraged. 
Do I really have to wear my badge during the conference?
Yes! Only individuals registered for the conference and wearing their conference badge will be permitted to enter conference spaces.
I have dietary restrictions. Can you accommodate?
Each breakfast, lunch, dinner and reception will be served buffet-style. Vegetarian options will be available on the buffet line. Vegan meals are available by request. If you have a dietary requirement other than Vegan or Vegetarian please notify CALSAGA Staff in advance.
What is the address of the hotel?
Agua Caliente Resort and Spa Rancho Mirage is located at 32-250 Bob Hope Drive Rancho Mirage, CA 92270.
Is there an additional fee for parking?
Complimentary self-parking and valet parking are available.